As a merchant, you have products in your store and have related items that are often interesting to buy at the same time. Generally, if you buy a phone, you will need a protective case or sheet. All these products are called Prestashop cross-selling. It should not be confused with fast purchases, these small, useless and cheap objects that you are forced to buy in the payment process of major brands (for example, magazines, drinks, chewing gum, etc.).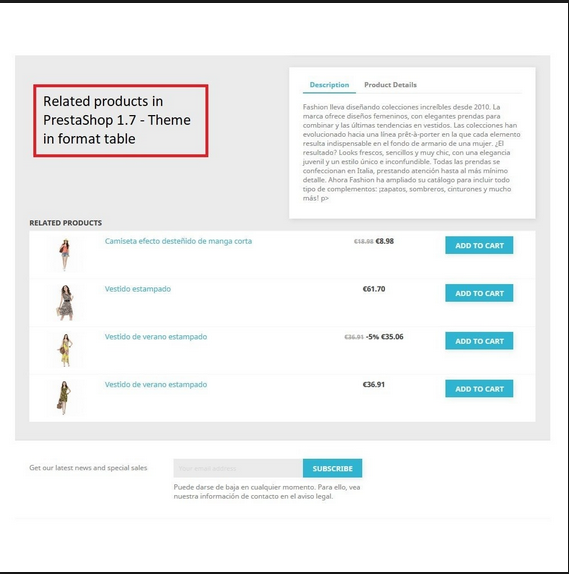 Here we talk about products that make sense to combine with your purchase and are sometimes more expensive than the original product. Simply help the consumer and in this case Prestashop cross-selling products, the merchant or seller helps the consumer to choose their cross products guiding him towards the best accessories for his main purchase. The objective is to replace the seller's role in a physical sign to guide the consumer towards the products and accessories that are most relevant to him.
Basically, you push it to the related products module or the multiple purchases with a discount, discount offer for multiple or combined purchases. Propose "packages", for example a camera plus the tripod, plus the protective bag with a 10% discount on accessories or free shipping.
Cross-selling related products is a wonderful tool, applicable in many sectors. For example, in the fashion sector, we propose a beautiful dress with a scarf and matching shoes. Or in the online pharmacy sector, offer a rejuvenating cream that combines very well with sunscreen.
In the case that your products do not combine with each other, we recommend sellers to label their section differently to propose products of the same range to the original product. Showing Prestashop cross-selling at the bottom of the product page is a good idea, and the best thing is that Prestashop related products are accessible from a tab menu for ease. Then present the products by 2 or 3, but never again, otherwise it will spread a misunderstanding with the client.